Shopping Basket
Your Basket is Empty
There was an error with PayPal
Click here to try again
Thank you for your business!
You should receive an order confirmation from Paypal shortly.
Exit Shopping Basket
Kingscliff Beach Holiday Park
Kingscliff, NSW
The new Kingscliff Beach Caravan Park re-opened earlier this year and it looks great! The double slab sites are quite big with plenty of space between you and your neighbours over the back. The caravan park also has ensuite sites, tent sites (with synthetic grass), and luxury beachfront cabins.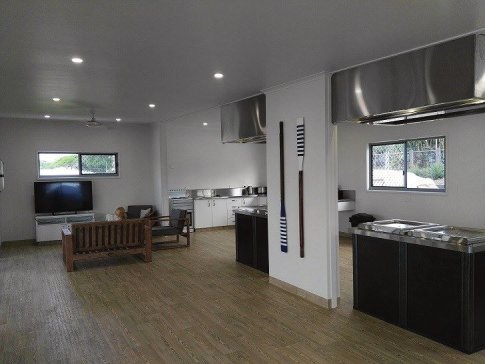 The camp kitchen is pretty impressive with 2 kitchens set up, TV and lounge area and BBQ's inside if the weather decides to pack up (or if the outside BBQs are all being used).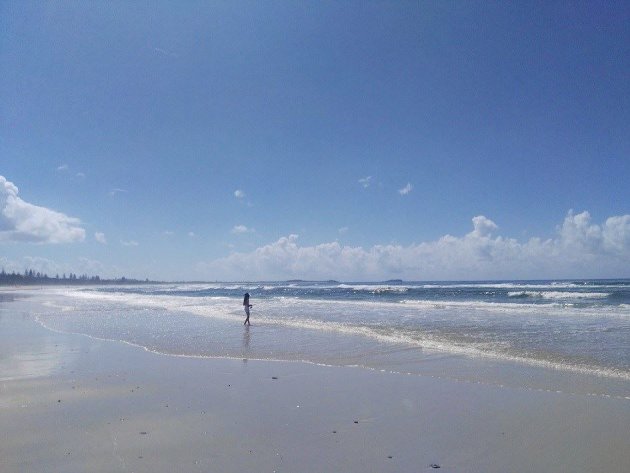 This caravan park is situated right on the beach in Kingscliff (only a walking path separating it) so the views and sound of the surf are spectacular.
Next to the park the council has opened a new parkland area the kids love running around in and the adults can sit and take in the view of the surf. Next to the parklands is the surf club with a balcony looking out over the beach. Keep an eye out for the bands they have on if you like a bit of entertainment with your meal. Across the road from the caravan park is the Kingscliff Beach Hotel. We highly recommend the musical bingo if they have it on, very entertaining night that gets you singing along to old favourites . Along Marine Parade is an array of cafés, boutique stores and different restaurants. One block back from the waterfront is a Woolworths. All these only a hop, skip and jump away from the caravan park. 

Head south, only a very short walk away, you'll find Cudgen Creek. It has lovely clear water and you'll see plenty of fish when walking along the boardwalk. It's nice to swim in or drop a line in and see what you can catch!

Kingscliff Beach Holiday Park is a great location in the heart of Kingscliff with the local eateries and shops all within walking distance.
Read Full Post »
Dicky's Beach Family Holiday Park
Caloundra, Sunshine Coast, Australia
If you're heading to the Sunshine Coast for a weekend or longer and are unsure where to go, let me show you why Dicky's Beach Family Holiday Park (only one hour's drive north of Brisbane) is a wise choice to make.
Firstly. LOCATION! With an idyllic beachfront as a backdrop, (as far as the eye can see, in both directions) the provision of patrolled beach areas for swimming available, a variety of shops across the road and a host of popular tourist attractions within easy travelling distance, we're off to a good start. And then there are the all important caravan and camping facilities.
My first impression when arriving at this Holiday Park was a feeling of space. Many caravan/campsites can be rather cramped which reduces the privacy aspect and diminishes the potential for peace and relaxation which people seek when sharing camping sites with other couples and families.
After unpacking and setting up our 'home away from home' in our easily recognisable 'Comfort Caravan' (nicknamed, 'The Bumblebee') I visited the nearest amenities. It was clean, well maintained and was equipped with more than adequate facilities for the size of the Park.
And speaking of space...... this large camp kitchen was beautifully presented and well equipped, even down to the provision of an electric oven. Large groups can gather here to enjoy BBQ's or oven cooked meals whilst enjoying each others company al fresco style.     
A load of fun is waiting to be had in the well stocked games and recreation room which includes a pool table, air hockey, and Sega rally machines etc. A large TV and a card/games table and chairs is available in the adjacent room with comfortable lounges to relax in. Great for those rainy days.......or for when Mum's and Dad's need  time to get re-acquainted. 
Amongst the variety of shops and cafes situated across the road from Dicky's Beach Holiday Park is an IGA store, a chemist, a butcher, a Thai restaurant, a Fish n Chips/Hamburger shop and a wide gluten free range of food available in the bakery. There's even a place where you can go and have a massage if your muscles seize up with either too little or too much exercise.    
When the cook of the family needs a break or you are looking for some entertainment, the Dicky's Beach Surf Club is right next door. The views are superb, the staff are efficient and friendly and the food is scrumptious. And I can personally vouch for their delicious Chicken Parmigana.   
And while you are enjoying your second glass of wine or about to pour over the dessert menu, the kids can entertain themselves in The Little Nippers Kids Club. It was pretty packed the night we went because they offer a 'Kids Eat Free' deal on Sundays.  
If it is not too late after dining at the club and the temperatures are still warm enough, you can cool off in the outdoor pool before retiring for the night. 
Dicky's Beach Holiday Park is truly a wonderful place to stay and a place you will want to return to often. We found the staff to be courteous, friendly and helpful with all our enquiries. Their facilities include a tennis court, powered tent sites on grassy areas with close access to the camp kitchen, BBQ's, ablution block and laundry. They also have unpowered sites for campers who prefer them and three star self contained units for people without tents or caravans.   
There are many fabulous attractions near Caloundra which enhances this venue even more. Such as; The Golden Beach Hire company who have stand up paddle boards and both single and double kayaks available for hire, the Seaview Art Gallery at Moffat Beach, and the Queensland Air Museum located only 3.4kms from Dicky's Beach.
A little further away is Scuba World, Coastal and Canal Cruises and whale watching in Mooloolaba when the season is right. There are plenty of walking tracks to forests, lakes and wetlands and botanical gardens to explore. But at the end of a fun-filled, adventurous or laid back, relaxing day, spent at Dicky's Beach Holiday Park, there is nothing more enjoyable than to stroll along the waterfront as dusk descends and the sun sinks over the horizon.
- Trudee
Read Full Post »
/